Santa comes to town with activities and fun times for kids & the whole family including caroling, the official Village holiday tree lighting in the park with refreshments, shopping and much more.
A fun, family festival!
SCHEDULE OF EVENTS:
(THIS IS LAST YEAR'S FESTIVAL – 2022 SCHEDULE WILL BE POSTED AS SOON AS POSSIBLE)
10:00am – 3:00pm
– Holiday Craft Show hosted by Festivals Fredonia with over 25 vendors at Fredonia Grange No 1 (58 W Main St)
– Basket Raffle at Fredonia Grange No 1
– Kids Crafts Workshop at Fredonia Grange No 1
– Adult Ugly Sweater Contest – Register by 2pm at the Festivals Fredonia Table at Fredonia Grange No 1
– Festivals Fredonia Giving Tree – Donate hats, gloves, and boots to our tree with all donations given to Fredonia Central School & Partners in Kind (The Miracle of Generosity)
– Salvation Army Red Kettle Campaign in the Park (The Miracle of Giving)
– Cookie Decorating at Fredonia Methodist Church, 25 Church St
10:30am – 11:00am
– Story Time with Santa at Darwin R. Barker Library, 7 Day St (attendance limited – advanced registration required call (716) 672-8051)
11:00am – 3:00pm
– Food Vendors in the Park – Franklin Honey & Apples/Kettle Corn & Dupers Restaurant (FREE Hot Dog to kids under 12)
– Paul's Rocket Stoves in the Park with Hot Cocoa
– Fredonia Christ Community Church has kids activities in the Park
– Woodbury Winery and Three Chord Bourbon will have samples and sales in the Park
– Ornament Crafting Workshop at the Library and grab a "goody" bag while they last
11:30am – 12:00pm
– Story Time with Mrs. Claus at Literacy Volunteers, 10 Park Pl
1:00pm – 3:00pm
– Visit with Santa and Mrs. Claus at Fredonia Grange No 1 (Parents are encouraged to bring their cameras)
1:00pm – 4:00pm
– Horse drawn carriage rides around the Village ($2 per person – $1 donated to Hospice) (The Miracle of Giving)
2:00pm
– Infinity Dance Team at the Gazebo
3:30pm
– The Collage Dancers at the Gazebo
5:00pm
– Holiday Parade and arrival of Santa for official Tree Lighting (The Miracle of the Holiday)
5:30pm
– Festivals Fredonia Annual "Give Back" Program Presentation to Fredonia Trolley Fund at the Gazebo (The Miracle of Sharing)
9:00pm – 12:00am
– Adult Ugly Sweater Rock Party featuring Two Towns at Coughlan's Pub, 47 W Main St (Prize for Best Sweater)

If your organization has an event going on this day that you'd like us to consider listing as part of the Miracle on Main Street events or if you have questions please contact us at festivalsfredoniany@gmail.com

Other Events Happening in Conjunction with Miracle on Main Street
Freddy the Elf Contest
Freddy has made another journey from the North Pole to Fredonia and wants you to find him daily and post your results on the Festivals Fredonia social media pages.
Starting on November 27th , Freddy will be on someone's lawn in Fredonia. When you find him let us know by posting a picture of him with the placard using the hashtag #FreddyFFElf You must also send an email of the picture to FreddyFFElf@gmail.com to be entered to win a prize.
Every 2 nights, up to and including Christmas Eve, Festivals Fredonia will provide a clue as to where Freddy is. Each time you find Freddy, you will be entered into the contest. Winner will be randomly chosen and announced via social media on December 26!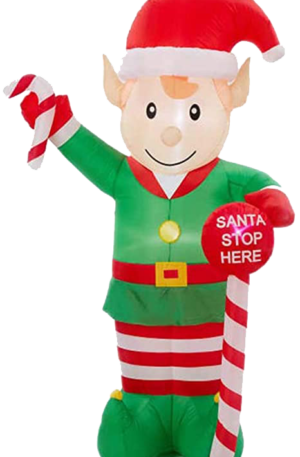 Holiday Coloring Contest
Get into the holiday spirit by completing a coloring sheet. Use crayons, markers, paint or pencils. Prizes awarded to The following age categories (one entry per person): Ages 3-5, 6-8, and 9-12.
To Enter Coloring Contest:
• Download coloring sheet for the age group that your child is in just by clicking on the age group: Age 3-5, Age 6-8, Age 9-12
• Color and email a photo of your masterpiece to festivalsfredoniany@gmail.com by December 4 (Just snap a picture of the finished product and include it in the email)
• Remember to include your child's name, age, parent's phone number and address
Winners will be notified by December 5. Winning artwork will be posted on Festivals Fredonia website and social media pages.
Holiday Home Decorating Contest
Theme: Light Up The Town
Decorate your house for the holidays and register for the contest. Registration is November 15 – December 10. Judging will be December 15 – 17. Click here to register. Register for 1 of 4 categories in which awards will be given:
Best Display of Theme "Light up the Town"
Best Display of Color
Most Creative
Most Outlandish (Yard with the Best Animated/Inflatable Displays)
Contest is open to residents of Fredonia, NY and surrounding area.
Fredonia Gingerbread House Contest
The Darwin R. Barker Library & Museum is hosting a gingerbread house competition this year during Miracle on Main Street! We will be accepting gingerbread houses based on any building in Fredonia. The winner will be decided by vote, awarded a prize of $100, and will be announced on the Library and Museum website along with a history of the building depicted.
Gingerbread houses must be dropped off in the Steele Room between 10-11am on December 4th. Viewing and voting will be from 11am-7pm when the gingerbread houses will need to be removed.
Story time with Santa at Darwin R. Barker Library
Story time with Mrs. Claus at Literacy Volunteers of Chautauqua County in Fredonia