THE MIRACLE ON MAIN STREET PLANNING COMMITTEE IS CURRENTLY WORKING ON THE 2023 SCHEDULE OF EVENTS AND WILL BE UPDATED SOON. BELOW IS THE 2022 SCHEDULE FOR YOUR REVIEW.
Santa comes to town with activities and fun times for kids & the whole family including caroling, the official Village holiday tree lighting in the park with refreshments, shopping and much more. A fun, family festival!
SCHEDULE OF EVENTS:

10:00am – 10:30am
– Mark Twain as Santa reading a letter to his 2nd child, Suzie, Darwin R. Barker Library, 7 Day Street
10:00am – 2:00pm
– ConnectLife community blood drive (The Miracle of LIFE), Fredonia Family Church, 19 Church Street
– Gingerbread House Decorating Workshop, Fredonia United Methodist Church, 25 Church Street (fee $18, $23, $28)
10:00am – 3:00pm
– Holiday Craft Show hosted by Festivals Fredonia with over 25 vendors at Fredonia Grange No 1 (58 W Main St)
– Basket Raffle at Fredonia Grange No 1
– Kids Crafts Workshop at Fredonia Grange No 1
– Adult Ugly Sweater Contest – Register by 2pm at the Festivals Fredonia Table at Fredonia Grange No 1
– Salvation Army Red Kettle Campaign in the Park (The Miracle of GENEROSITY) West Barker Common Visitor's Booth
– Nativity Display and Alternative Market, Fredonia Presbyterian Church, 219 Central Ave
– Kid Santa's Little Helper Costume and Coloring Contests, A Spot & A Spell/Lady of the Lake, 50 W Main St
11:00am – 11:30am
– Story Time with Santa at Darwin R. Barker Library, 7 Day St
11:00am – 3:00pm
– Donut decorating sponsored by Tim Horton's of Fredonia, Fredonia Grange No 1
– Food Vendors in the Park – Franklin Honey & Apples/Kettle Corn, Dupers Restaurant (FREE Hot Dog to kids under 12), Steve & Al's Steakout
– Paul's Rocket Stoves in the Park with Hot Cocoa
– Kid's activities in the park
– Woodbury Winery and Three Chord Bourbon will have samples and sales in the Park
– Angel Necklace Crafting Workshop at the Library and grab a "goody" bag while they last
12:00pm – 12:30pm
– Story Time with Mrs. Claus at Next Chapter Bookstore, 12 Park Pl
1:00pm – 3:00pm
– Visit with Santa and Mrs. Claus at Fredonia Grange No 1 (Parents are encouraged to bring their cameras)
2:00pm
– Danza at the Gazebo
3:00pm
– The Collage Dancers at the Gazebo
4:00pm
– Special screening of "The Grinch" (FREE) – must be accompanied by adult, The 1891 Fredonia Opera House, 9-11 Church St, Sponsored by the Southern Chautauqua Federal Credit Union
5:30pm – 6:30pm
– Holiday Parade and arrival of Santa for official Tree Lighting (The Miracle of the HOLIDAY)
– Festivals Fredonia Annual "Give Back" Program Presentation to Great Lake FX at the Gazebo (The Miracle of GIVING)
7:00pm – 9:00pm
– First Annual Community Street Dance with DJ Joe Gould Sponsored by the Village of Fredonia at the Gazebo

The Fredonia Chamber of Commerce is conducting many different events for businesses in the village. Visit their site by clicking here for more information. REMEMBER TO VISIT PARTICIPATING BUSINESSES FOR SPECIALS THROUGHOUT THE DAY FOR SPECIALS AND OUR INAUGURAL "HOT TODDY" CRAWL. TURN IN YOUR "PUNCH CARD" TO ANY FESTIVALS FREDONIA, INC. VOLUNTEER TO BE ELIGIBLE FOR A SPECIAL DRAWING COURTESY OF THE FREDONIA COMMUNITY CHAMBER OF COMMERCE.
If your organization has an event going on this day that you'd like us to consider listing as part of the Miracle on Main Street events or if you have questions please contact us at festivalsfredoniany@gmail.com

Other Events Happening in Conjunction with Miracle on Main Street
Freddy the Elf Contest
Freddy has made another journey from the North Pole to Fredonia and wants you to find him daily and post your results on the Festivals Fredonia social media pages.
Starting on November 27th , Freddy will be on someone's lawn in Fredonia. When you find him let us know by posting a picture of him with the placard using the hashtag #FreddyFFElf You must also send an email of the picture to FreddyFFElf@gmail.com to be entered to win a prize.
Every 2 nights, up to and including Christmas Eve, Festivals Fredonia will provide a clue as to where Freddy is. Each time you find Freddy, you will be entered into the contest. Winner will be randomly chosen and announced via social media on December 26!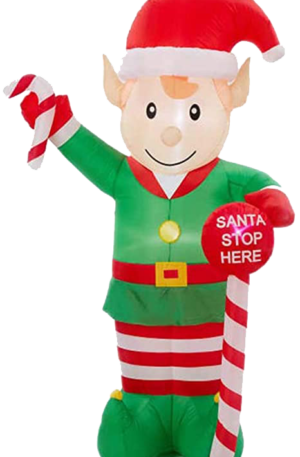 Holiday Home Decorating Contest
Theme: Light Up The Town
Decorate your house for the holidays and register for the contest. Registration is November 17 – December 15. Judging will be December 17 – 19. Click here to register. Register for 1 of 3 categories in which awards will be given:
Best Display of Color
Most Creative
Most Outlandish (Yard with the Best Animated/Inflatable Displays)
Contest is open to residents of Fredonia, NY and surrounding area.
Story time with Santa at Darwin R. Barker Library
Story time with Mrs. Claus at Literacy Volunteers of Chautauqua County in Fredonia